The 26-year-old entrepreneur is the founder and creative director of Stockholm-based Unifrom, best known for bringing classic perfume oils into the 21st century. His interest in fragrance started with the scents in the stairwells located in the high-rises that he's both lived in and visited when growing up.
— Families from all corners of the world live there, and when they mixed spices, lit incense, or cooked food, it all culminated in a special scent — a scent that became the inspiration for Unifrom.
It's been a couple of years since we covered you in our magazine, then as the founder of Unifrom. What has happened since?
— A lot. As we were growing, we started facing trademark challenges entering new markets, especially in Japan, so we changed our name to Unifrom, says Mohammed. We launched our second perfume format, solid perfume, and were also part of our first-ever runway at Paris Fashion Week [teaming up with Copenhagen-based HELIOT EMIL for the launch of a perfume oil and a bag to carry it in]. I really feel that we've grown our community internationally.
What's so special about perfume oil?
— It has a long history and is something that I personally grew up with. It's known to be a more concentrated alternative to spray. And since it doesn't contain alcohol, it can therefore be used for people with more sensitive skin. Perfume oil doesn't have the same 'throw' as, for instance, a spray perfume, so it's a more subtle experience and, we believe, something that you should carry with you throughout the day and night.
You're currently stocked at the likes of Farfetch, Browns, Dover Street Market, One Block Down, and Très Bien. How did you do that?
— There's a lot of hard work just getting a foot in the door; chasing buyers up and down the streets of Paris and New York, spamming them on LinkedIn, email, Instagram, and WhatsApp, and detective work to find out where they will be at to be able to present our brand — we've done it all. Fragrance sections have had the same brands and bottles for the past 10 years. Coming with a unique format and a more experimental perspective to scent is something our partners seem to appreciate, and I guess that we come with more energy compared to many of the big brands. Obviously, we spend a lot of time developing the product, but we also put a lot of energy into creating a world around the products. Unifrom was founded in the diaspora, so where we come from, who we are for, and what values we represent are equally as important.
"I guess that we come with more energy compared to many of the big brands."
What's been your biggest challenge since the start?
— In the West, perfume has been synonymous with spray perfume. Focusing on oil gives us a unique edge in the industry but it also presents our biggest challenge; we're asking people to change their behaviour, which is never easy. So we constantly have to educate people on the format and how to use it — without turning it into a lecture. We always try to come up with new ideas for TikTok concepts, collaborations, and events that communicate the benefits in exciting ways.
What's the current state of the fragrance industry?
— To be honest, we don't really look that much at the industry. I think we've been very lucky to launch the brand at a time when fragrance is mixing with many different fields, from fashion to technology, from health to architecture. Experimentation and being interdisciplinary are a big part of our ethos; we do our best to contribute to this and collaborate across industries. Also, I can tell from experience that it is a very exclusive industry to which not everyone has access, and we've also wanted to open doors to it. We're currently in the process of developing our sixth perfume oil, called Winter Saga. We aim to get 1,000 responses from our community on the question of what winter smells like. We wanted this to be a project opening up these doors to the industry, and every person participating will be credited to the scent, says Mohammed. He adds:
— We believe that scent — like architecture, furniture, light, and sound — can be designed. We're recently looking into the opportunity of creating scent scapes for commercial and public spaces. It's an often overlooked aspect when it comes to architecture and interior projects. Distilling fragrances and affecting not only the people who buy our fragrances but also thousands of other people at once is something we're really excited about.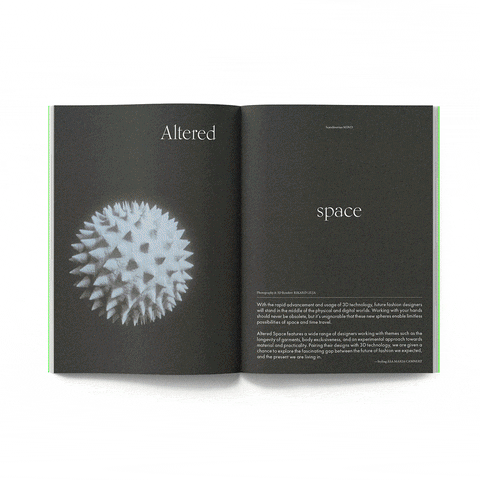 Order your copy of issue 4 now. International orders available via Papercut.