— Don't use the word 'cheating' to describe our work!
When I ask Micky Ho to walk me through the jungle of programmes needed in a Dang Ho campaign, her creative partner and girlfriend Julia Dang is not late to intervene with media-trained instructions. Already at the first question of our two-hour interview session, the main dynamic of the creative duo is spelt out before me: give-and-take.       
Thirty-one-year-old Micky Ho moved to Stockholm from the Swedish small town of Katrineholm four years ago to pursue a career as a CGI artist and creative director, after studying both film and photography at university but dropping out because of the slow-paced curriculum. Before moving to the capital, she'd also worked with graphic designs and animations after teaching herself different Adobe programmes and tools.
— I get impatient if I don't learn, so I find myself just switching interests very often. When I found 3D and cgi around 2020, it became my spark. I almost felt like some of these programmes were like cheating when I realised what they could do.
Micky is short-spoken, perhaps because she is unfamiliar with interviews, but somewhere in between her polite and shy demeanour lies a refreshing honesty. Anyone who has explored cgi and 3D art knows how excruciatingly time-consuming it is, not to mention the holistic creative competence needed. Especially for the art of Micky's calibre. Her answers are unrehearsed, and it almost seems as if she's never really thought of herself from an outsider's perspective before. After every question I throw at her, when her sweeping eyes can't seem to source any more inspiration in the bland conference room we're sitting in, she turns towards Julia who patiently waits to fill in the blanks.
— We hang out with each other 24 hours a day, seven days a week. We both live and work together, for example. So in a way, we are always on the clock. It's constant input, both professionally and privately. Julia explains when I point out that they literally finish each other's sentences.
"We hang out 24 hours a day, seven days a week. It's an all-strings-attached kind of relationship."
Julia Dang, unlike Micky, is no stranger to interviews. She has been a public figure and influencer since her late teens and now boasts over 800,000 combined followers on Instagram, YouTube, and TikTok. The 26-year-old explains that she's always had a problem labelling herself with a professional title, but the common denominator of all her creative work is fashion.
— Perhaps I'm an entrepreneur first and foremost. Then again, I'm both a photographer and a videographer and also work with social media both for myself and as a consultant. So, there's a lot.
It would be wrong to disagree. Despite her young age, Julia has launched her own fashion brand, studied industrial engineering and management at the Royal Institute of Technology in Stockholm, and handled creative direction and styling for brands like Nike. Everything started with her YouTube channel, TheLineUp, in 2013, originally created with former colleague Maya Nilsen as a fun side project when she was 16.
— We had no intention of making money or anything. We just wanted to share our fashion interests and just post it somewhere. After six months, we had gained over 10,000 subscribers, which back then was a big deal for us. We were probably the first Swedish fashion YouTubers as well, and we grew incredibly fast in the UK and USA because we did everything in English, Julia contemplates.
Before the term "influencer" was even acknowledged in dictionaries, Julia had already made a living from her social media presence for years. Dictionary.com first added the term in a social media context in 2016. Perhaps that is why Julia doesn't use the i-word to describe herself; she left it behind years ago. And in some ways, she never saw herself as one.
— When I was 15, living off your content wasn't accessible. Like, we didn't even have Instagram yet. We had to learn everything from scratch; makeup, shooting, styling, directing, editing, you name it, and that's how I've niched myself as a content creator.
At the same age, Micky was also busy forming a creative bubble of her own. When Micky came to Katrineholm from Vietnam in 2007, she landed right in the middle of the school year and was told to wait for the next semester to register for high school. She just sat at home with nothing but time for around a year. Fortunately, an uncle had given her an early version of Photoshop on cd, so she installed it on the family laptop and killed as much time as she could by learning the ins and outs of the Adobe programme.
— I would also sit for hours and hours on different K-pop forums, preferably the Girls' Generation threads, and post my fan art there. It got competitive, it was all about wanting to make the prettiest banners and getting the most engagement. It cheered me up so much to see how much people liked the banners.
"We've always had a penchant for creativity in the tech world. I may not personally like to code, but we both like the design language that comes from tech."
What did the banners consist of?
— I made different collections, it was like one drop a week, based on different bands or topics of conversation on the forums. I also learned to make my own avatars for different band members, rather than just using pictures of them I found on Google. And then of course the avatar had to match the background and typography, Micky explains.
How did you learn it all?
— I'm fully self-taught, and back then there weren't any YouTube tutorials to watch. I had to Google different tutorials and read instructions in text form from various blogs, or Adobe's own manuals that came with the CD disk. It was horrible! But I think it also gave me a good foundation of understanding the Adobe suite.
K-pop was more than just an interest; it was the spark that started her journey for virtual creativity, and it also helped her make friends in her new hometown. After meeting several K-pop enthusiasts through Vietnamese gatherings in Katrineholm, the dance group AUREA was born. Influenced by other K-pop dance groups, and the general dance craze that was sweeping across the internet in the early 2010s, the group started uploading YouTube videos.
— When we did our dance clips, I understood quite early on that I liked doing the choreography, directing, and videography the most. You can see me in front of the camera in the early clips, but as the years went on I'd start to stay behind the camera.
What programmes did you use to edit the dance clips?
— The first programmes I used were Movie Maker, iMovie, and Final Cut. Then they wanted to start experimenting with After Effects, so I learnt that. This time in my life is the foundation of all the work I'm doing today. I realise now that since I learned everything from scratch myself, and since no one else we're interested in the group, I learned the basics of photography, light, editing, painting, graphic design, and even coding, Micky says, adding:
— School was not for me. I thought it was unnecessary. It hasn't helped me. If you come to school as a blank sheet of paper, that's great, but if you already have creative knowledge, I think you learn more by going at it yourself.
Perhaps most important of all, K-pop was also an interest that eventually led Micky and Julia together. Their five-year age difference meant that Julia wasn't around for the fan art forums in the early days, but she did learn to love K-pop and J-pop culture by watching YouTube videos after school.
— I mean the early YouTube days were so important to me. Some of my very first subscriptions were Michelle Phan and
BubzBeauty, and they introduced me to a lot of East Asian culture. They were also my first Asian role models because there weren't a lot of Asians where I lived, finally, I found someone that looked like me. And I think that might have sparked my interest in things like manga, K-pop, and J-pop because they would speak about it, Julia says.
It didn't take long for Julia to take her first stumbling YouTube steps, her first ever uploaded video was a subtitle music video for the K-pop group Kara. Around the same time, she also noticed different dancing videos from groups all over the world on her feed and eventually joined a Stockholm-based dance group herself. The sub-culture of Asian-inspired dance groups in Scandinavia wasn't huge, so it didn't take long for the duo to find each other on social media. Their shared natural urge to create and their Vietnamese heritage meant that they stayed in touch throughout their teens. The first message was sent by Julia in 2014.
"We have always taken inspiration from Asian pop culture, and since many parts of Asia are light-years ahead, I think we have a head start."
— I just wrote to Micky and said "Hey, if you ever come to Stockholm we should meet up and dance!" and it took off from there. We would chat on Facebook a lot and would meet up once or twice a year, just as friends, Julia says.
By 2019, Julia had become a top creative director and content creator in the Scandinavian fashion scene. Micky had perfected her unique style in animations and graphic design in her free time, when not working as a supervisor at the cultural youth centre Perrongen in Katrineholm. Julia was launching her own fashion brand dang sthlm, and she wanted Micky to help with all the visuals going forward. Micky was personally interested in fashion but wasn't sure about the idea of creating a fashion brand from scratch. But Julia had her eyes on the prize and put forward the idea of going to Vietnam for a month to source clothing manufacturers.
— I'm a go-getter. I don't like to stop and reflect, I want to get started right away. Micky didn't believe in it at all at first, but I booked flight tickets and said "Sorry, but we're going!".
And this trip officially made you guys leave the friend zone, right?
— Yeah, in a double sense. I hired Micky as an employee at my company and we also started dating. Since then it's been an all-strings-attached kind of relationship, and we've worked together on many different projects and campaigns, Julia says, adding:
— We knew that we were similar privately and that we had the same interests and backgrounds. But as soon as we started working together we also realised how compatible we were on a professional and creative basis as well. Every time we did a campaign together, either for dang sthlm or for different brands, our skill sets just matched. I took photos and filmed, and Micky was working with post-production and 3D. It came quite clear that things just clicked.
With all your experience I guess the pair of you could do more than a whole team could.
— I guess, Micky says before turning her head towards Julia.
— It's funny that you say that. During a campaign shoot, we sometimes felt that a photographer or director received the main credit. I've been on a shoot and fixed everything from lighting, photography, styling, and technology, and then Micky does the whole art direction and post, it became their project, even though Micky had done the entire art direction and the 3D concept. We started Dang Ho because we felt that our work was being forgotten a little, we wanted to concretise our niche. To actually see what we can do.
Julia and Mickey quickly found their niche of mixing photography with CGI and straight away started experimenting with avatars and digital twins for both models and clothing in campaigns. When I ask them where their unique style comes from, a brainstorm of various inspirations comes flying out of their mouths.
— Gaming has been one inspiration in terms of digital visuals, especially for our campaigns from a couple of years ago.
I love the idea of avatars, choosing your character and just personalizing things in the menus. Tekken and Need for Speed are great games. I mean, the PlayStation 2 alone is a source of so much inspiration for me, Julia says, with Micky interrupting:
— And I was very much into World of Warcraft growing up. I loved the Blood Elf character on there…
— You played with her too? Wait, were you a Horde or Alliance?
— Horde, obviously! Micky says laughing, followed by a loud "Me too!" from Julia.
For a chaotic couple of minutes, the duo spits out all the games they've played, the manga they read growing up, the K-pop and J-pop music videos and directors that they have adored over the years, but one source of inspiration stands out the most: anime.
— Anime is easily a core inspo. Modern anime has also started to have a more 3D-dimensional style, even if it's 2D we're watching, it's 3D-rendered and futuristic. Don't get me started with the colour palettes and combinations! Julia says passionately.
Can you give any examples?
— Right now we're very excited about Chainsaw Man. We are always completely blown away by the outros. They are totally bizarre and we love them. We've created campaigns more or less just by taking inspiration from an episode outro. I make sure to take screenshots and look at the colours to build inspiration, Micky says, adding:
— Oh and the anime movie Belle. It's so great and beautiful,
I had to pause it all the time to take in the scenes. When I did the Gentle Monster campaign, the whole campaign that appeared on billboards all over the world was actually lifted from the Belle movie.
Do you think that your inspiration sources and visual language are unique?
— From a Scandinavian perspective, our style is completely unique. We have always taken inspiration from Asian pop culture, and since many parts of Asia are light-years ahead, at least with the style we're going for, I think we have a head start. Everyone knows of the Scandinavian style that is very appropriate with the muted colours and minimalistic approach. That is fine, there are plenty of designers, stylists, and photographers who are very good at it already, Julia says.
Are you tech heads?
— We've always had a penchant for creativity in the tech world. I may not personally like to code, but we both like the design language that comes from tech. In a way, we are romantic tech heads. From the fact that we really liked glitches and lag when we were teenagers, to now looking towards futuristic and fantasy, Julia says.
— I guess I've turned into a software and hardware expert just because I need it for my work. Depending on the campaign, I will use Cinema 4D for general 3D graphics and animations, ZBrush for sculpting, Morphi to find structures and 3D libraries, daz 3D to create models and avatars, and then back to Cinema 4D to assemble everything, Micky explains.
In simple terms, Julia works with pre-production, and Micky does post-production. Julia also works as a project manager, including planning the shoot, making sure the makeup and styling go together, as well as contacting the right people. Julia shows me her calendar in one of her daily planner apps, which is filled to the brim with to-dos.
— Like I said. I'm a go-getter. If I write something here, it gets done. End of! Julia says proudly.
Even though Micky's core magic of 3D and CGI creations kicks in after a shoot, her creative input also comes to play in pre-production in the form of mood boards. With her creative mind filled with ideas and loaded-up Pinterest boards from earlier, she puts her earphones in and gets to work in front of her computer.
— It's only when I'm done that I want to show Julia how things went. Until then, I like to be undisturbed.
How can you be sure that everything works out in the end?
— I feel that we complement each other. We are very compatible and have trust that the other knows what to do. I'm not an expert in cgi and 3D creation, and I might not even understand what kind of images she has in her head. But I trust that it will be fine. And vice versa, Julia says and smiles at Micky. She adds:
— It never gets personal when we give feedback on each other's work. We know our strengths and weaknesses. Micky is much more of a creative pump, and that's super important. Then I take care of composition — I'm more the one who pulls the strings together. After a couple of seconds of quiet smiling towards each other, Micky adds:
— I've always been a dreamer, and Julia has been good at pushing me. It's nice to see how some of those dreams came to life thanks to Julia.
Unconsciously, it seems that our interview is timed perfectly. Julia and Micky tell me that they want the last three quarters of 2023 to be fully focused on Dang Ho. At the moment they are trying to juggle several requests at the same time. With "everything from fashion houses, videos, artist campaigns and photography under NDA". They believe in their own creations and niche, and it seems like the industry does too.
If we leave money, status, or any other professional benefits to the side, what does your dream project look like?
— We both love Kali Uchis and directing a music video for her would be amazing. There is a Korean photographer, Cho Gi-Seok, who directed the video for the song I Wish You Roses. It's on a whole other level, it would be awesome to do something similar in that style, Julia says.
— I'm not sure, Micky says, and glances up at the ceiling for a moment. Julia breaks the silence.
— So not even for like New Jeans? [A modern K-pop group, editor's note].
— That's true. If New Jeans needs help with the visuals for a new video, that would be so damn fun. K-pop is the basis of all this. It would've been nice if all those K-pop forum hours could contribute to the culture now.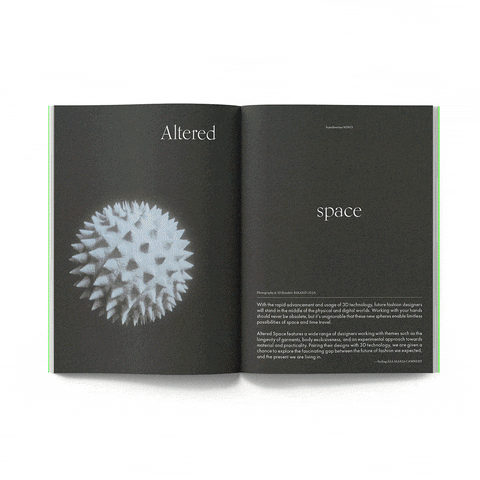 Order your copy of issue 4 now. International orders are available via Papercut.
---
To get more stories like this, sign up for our newsletter here